In my last post, (please read) I wrote about a special gift I received from my husband for Mother's Day two years ago. As I unwrapped my beautiful new journal, he explained that this was not just any journal but my "blank canvas." The gift, he told me, was a place where he hoped I would prayerfully consider and record what I wanted my life to look like now that our children were grown and gone. He encouraged me to fill the pages with the "colors" I chose to define the "canvas" in mynew season of life.
I don't know much about painting, but I love to walk into my daughter-in-law's studio and see her easel, her paints, the brushes, the latest piece she is working on and her palette vibrant with various dabs of color. So, on one page of my new journal, I drew a
painters palette and inside it I drew several small, squiggly circles where I began to write a word or short description to define the colors I wanted on the canvas of my post-parenting season. Some of the circles were easy and obvious to fill in: A godly, healthy relationship with my adult children; A fun, loving and praying Grammy; Study God's Word; Teach; Write; Travel. Other circles were practical and essential: Exercise, Eat healthy and Maintain a healthy weight.
One circle, the very first one I wrote in, I discovered will take years to become a color on my canvas. In that circle I wrote, Humble, godly confidence in who God created me to be. What, you may ask, does that mean? Well you see, I always apologize for everything! I say I'm sorry for the hurts and offenses I perceive in others, for just about anything that goes wrong and even, many times, for who I am. I don't want to do this anymore! It drives my family crazy, it sets a bad example and it's not true. I am not responsible nor am I truly sorry for everything that goes wrong or for others hurts and offenses. And, I need to stop saying "I'm sorry" for the unique person God made me to be.
Learning to have humble, godly confidence in who I am and to stop saying "I'm sorry" is a difficult color to paint on my new canvas. The old color is so deeply ingrained in the fabric of my being that I find I must be aware of, intentional about and work hard to apply this new color on my canvas. My daughter is the most helpful in my quest. She is always asking me, "Mom, why are you sorry?" My poor husband is shocked when I say "I'm sorry" and then tell him, "No, I am not sorry." And, I am experimenting with new ways to express my feelings like, "I feel bad that happened." Or, "I will pray for you." Or the hardest of all, changing my inner voice to say, "It's okay that I am the way I am." Adding this new color to my fifty-two-year-old canvas may take the rest of my life.
Now, when I start a new journal, I copy the palette from the last one. My first palette had fifteen squiggly dabs on which I described the colors I wanted to be part of my post-child-rearing canvas. That number has grown as I discover new colors I want to fill this season of my life or when I remember something I left off. Recently, I thought of another color I want to add to my canvas. It occurred to me at a friend's birthday party. It is something I have always loved to do. It gives me life, energy and joy. It is something my husband and I did when we met, while we dated and at our wedding. We don't do it much anymore. But I realized, I still want to do it! I want it to be a "color" on my "canvas" as I approach 60, 70 and 80...!
On my palette, I added a new squiggly circle and in it I wrote the word DANCE! My husband doesn't care to dance much anymore. But that doesn't mean I have to stop. I can dance with my grandchildren, with my girlfriends or even all alone. I might join a zumba class, take up swing or line dancing, or just get an exercise dance dvd. And, I am going to dance!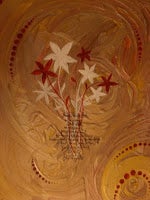 How about you? Is there a "color" missing on the "canvas" of your life? Is there a color you need or want to change? The Lord instructs us in his precious Word that He wants us to take off the old, to put on the new and to change the way we think. It takes awareness, it takes hard work and it may take time and patience, but it is always well worth the effort.

Colossians 3:9-10 says, ...since you have taken off your old self with its practices and have put on the new self, which is being renewed in knowledge in the image of its Creator.

Check out Jen's art at jenhorning.com